by Merkle, Elizabeth
"Kids making Quilts for Kids." Now in our third year of this project, we never imagined the interest and participation that would ensue.
Our Family and Consumer Science teacher, Andrea Polakoff, loves to sew and conveys this skill to her students. As an honorary member of our chapter of the National Junior Honor Society, she felt we should embark on a service project that involved sewing. So the members of the NJHS made fleece hats, mittens, and scarves for the homeless. Everyone had a lot of fun but the cost of the materials prohibited us from continuing this project.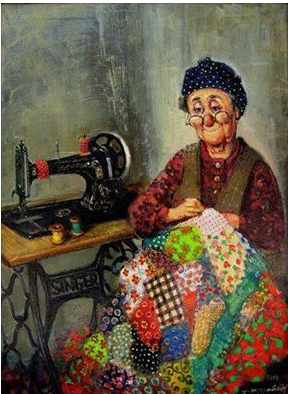 During that summer, Polakoff and I heard about Quilts for Kids, Inc. While placing an order at the Philadelphia Design Center, the founder, Linda Arye, an interior designer in Yardley, PA, noticed more than 20 industrial-size trash bags filled with discontinued designer fabric that were to be thrown away. Rather than see the fabric wasted, she asked if she could keep it and figure out a way to reuse it. She came up with the idea of patchwork quilts to be distributed to comfort children with cancer, AIDS, and other life-threatening diseases, as well as battered and abused children. Quilts for Kids, Inc., was born.
We contacted Ayre and went to her home to pick up some fabric. The excitement began that Monday morning when the students unloaded two SUVs packed with fabric.
Our next step was to sort out the usable fabric, since rayon and silk were not washable. The students began reading labels. Next we asked for volunteers to take home fabric and wash and iron it. Fortunately several teachers came to the rescue. We found the sixth graders who were just beginning to sew loved to iron and sort the fabric by colors and textures.
Finally we were ready to begin sewing. Although we are accomplished sewers, neither I nor Polakoff had ever made a quilt. We found a simple triangular pattern on the Internet, chose a committee chairperson to organize our after-school sew-a-thons, and began to sew. Those first few quilts were disastrous, full of holes or lopsided. Trial and error prevailed. By the middle of the year we had at least two designs under construction.
Our assistant principal, John Baradjiez, was the first faculty member to sew a quilt. He never had sewn before but with some prompting from the students, at the end of two hours he finished his first quilt. He has since made a second quilt.
We ended our first year of quilting by delivering nearly 100 quilts to St. Christopher's Hospital for Children and Children's Hospital of Philadelphia.
Expanding the Project
That summer, Polakoff and I developed a new curriculum for the eighth grade class. A service learning class would replace the usual course of study, although all the core material would still be covered. By doing this we allowed everyone the opportunity to make a quilt, not just the members of the Honor Society. We began each nine-week class by having the students research an aspect of quilting, community service, service learning, various illnesses that require a child to be hospitalized for long periods of time, and even child abuse. Each student had to write a one-page paper, give an oral presentation, and include some type of visual aid.
We had a student write a song about the directions to freedom depicted in quilts on the Underground Railroad. Another student drew a patch that might appear on the AIDS quilt and several students made a quilt block and told of its history.
Our marathon sewing sessions were held once a month from 3:00 p.m. to 7:00 p.m. Most of the participants were members of the NJHS, but students from all grades, teachers, school board members, custodians, and parents often came in to help. Not every student was destined to sew a quilt. These students would take photos, serve dinner, or do quality control-in other words, cut threads and check for holes.
Our fabric was donated but we still needed to purchase quilt batting and sewing supplies. We received several grants that enabled us to buy our supplies and even several sewing machines that were more suitable for finishing the quilts. Additional funds were raised by making quilts and raffling them off. Recently a grandparent was so impressed with the quilt his grandson had made he donated a huge roll of batting from his upholstery business.
Bringing Out the Best
We have marveled at the actions of many of our students. One student who was frequently teased by classmates was the first to finish his beautifully crafted quilt. We were pleased to see the other students admire his work and then ask him for help with their quilts. The faculty in our school could not believe that another student who never worked in class was the first to finish an outstanding quilt. Students who are very talkative in their classes can be found hunched over a sewing machine, concentrating on every stitch, totally oblivious to their surroundings. We asked the captain of the football team to create a quilt with our school's mascot, a Tiger, to be given to our new superintendent. He went on to make three more quilts. Each quilt has a tag that is signed by the student who made it.
When we took the students to Dupont Hospital for Children and the Ronald McDonald House in Wilmington, DE, we saw our students graciously hand over their creations to the children and the social workers. They are so very proud of their work, and everyone in our school community is awed by the dedication of these young adults who give up time before and after school, sew on Sundays at a local quilt shop, and even take quilts home to finish on school holidays. One student made seven quilts this year and two former students are making quilts as part of their service project for graduation.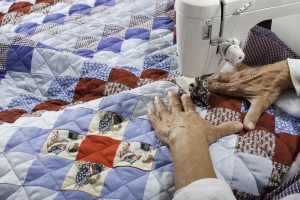 Linda Arye tries to come to school when the students have finished their quilts and often tells them stories of how the children who receive them have reacted. It is common to see some teary eyes.
Any school group that would like to begin a project like ours can go to www.quiltsforkids.org for information. Members of the NJHS chapter at Benjamin Franklin MS have given workshops on our project and are very willing to help schools get started.
Also don't miss visiting this website